Billing software systems for Telecom carriers, Public-Access Internet centres and more
We are based in the UK and specialise in designing leading-edge out-sourced, off-the-shelf and bespoke software products and services for many of your billing needs.
Current line of products includes:
* Dynasoft TeleFactura: a Telecom OSS/BSS software platform with Software-as-a Service, outsourced, hosted, and owned outright options offering a complete solution for Telecommunications voice and data billing, provision and mediation (PSTN, VoIP and Mobile CDR billing, Wimax, ADSL,...)
* Dynasoft Cybercafe
SurfShop: An Internet cafe timer and monitoring suite of software and freeware systems.
Offshore e-commerce, Web hosting and company incorporation
Interested in bolstering your Internet strategy with a more tax efficient structure ?
We offer the complete E-Commerce solution...offshore !
* Affordable offshore web hosting
* Multi-currency capability, offshore payment gateway, order processing, merchant account and Web hosting services
* High bandwidth and full extension support (SSL,...),
* International Business Company (IBCs) registration and incorporation: choice of low tax jurisdictions (Jersey, Guernsey, Isle of Man, BVI,...): no VAT, 0% corporate tax and much more.
* If you have any need to develop a software product, combine this offshore strategy with our offshore software development services to lower your investment and running costs even further.
Telecoms services for businesses and callshops
We offer low-priced high quality Telecoms services with world-wide access ... and all at

tax free

prices whatever the type, size of customer (callshop, private or company), or location, including in the European Union!
* Save on tax and on your phone bill (up to 86%) with our low prices compared to your traditional domestic carriers.
* Rock-bottom VoIP prices for callshops (€/min): France @ only 0.009889, USA @ 0.007667, UK @ 0.00605, Morocco @ 0.021032.
* Equipment special offer only for callshops: All the services and hardware needed to get started with Voice over IP for only €713 (8 cabins).
* No hidden charges: you only pay for seconds called, and not for activating your account or cancelling it.
* Standard services include: Carrier Select code / Carrier Pre-Select (Présélection) in Belgium, UK and France and Voice over IP and Callback worldwide.
Sign up today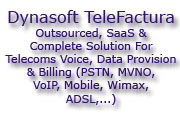 Dynasoft TeleFactura
"Because of Dynasoft's proactive approach and commitment to deliver, CommSys has built up enormous confidence in Dynasoft, and their capabilities." CommSys, Australia
Dynasoft TeleFactura
"Can I congratulate Dynasoft for creating such a comprehensive Telecom billing solution. The product has obviously been carefully and thoughtfully designed and the functionality is very impressive." Incontro, Italy