|30/10/2021
We are now offering SurfShop Pro for a low cost of only GBP49 for the server licence and 10 client PCs instead of GBP99. Cost of each additional client licence is now only GBP3 instead of GBP5. Take advantage of this new low offer
here
.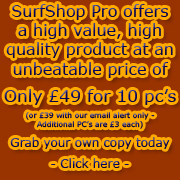 |28/08/2021
We have just released a new minor update of Cybercafe SurfShop Pro which includes a number of improvements: code size has been reduced, new components versions applied, bug fixes and various other code enhancements.

|03/08/2021
Our Cybercafe SurfShop Pro software supports full customisation of the client PCs' screensaver so you can now personalise the computers of your Cybercafe. This can enable you to run your own banner ads and adverts to advertise activities in your local community or make extra money by advertising local businesses. What's more, contrary to other schemes out there, you get to keep 100% of the money you make with this!

|16/06/2021
New updates are now available for Cybercafe SurfShop Pro (v5.05) and Free (v2.04): Windows Vista, 7 and 2008 Server are now better supported; sessions of all recent versions of the Web's most popular Messenger programs are now fully cleaned and reset -MS Windows Live, AOL, Yahoo, ICQ and even Skype.


|23/04/2021
We now accept payments via Moneybookers who offer secure and easy-to-use payment services.


|11/02/2021
We are pleased to announce the release of our best versions yet of Cybercafe SurfShop Pro and Free: v5.04 and v2.03. SurfShop now support 8 languages: English, Dutch, French, German, Italian, Portuguese, Spanish,and Russian
· Cybercafe SurfShop Pro v5.04
: We have just completed hundreds of hours of work to make SurfShop Pro our best solution to date. We offer a dozen new features but the same low price! Please note existing customers will have to purchase an upgrade from our
Buy Now
page (last Paypal icon on the page). New customers can buy it from the same location.
· Cybercafe SurfShop Free v2.03
: SurfShop Free is the world's first full-featured cybercafe freeware that is really free and full-featured. Version 2.03 includes over 200 hours of new features, and improvements to make the product better, and more secure.


|05/02/2021
Our unique range of cybercafe products is now available on more than 750 download sites worldwide.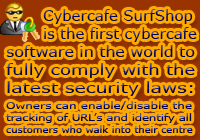 | The World's Most Complete Suite of Games and Internet Cyber Cafe Monitoring and Control Solutions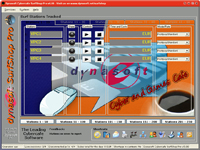 Dynasoft Cybercafe SurfShop Free:
Dynasoft has set the standard for the cybercafe industry again! We now offer the world's first ever cyber, internet and games cafe freeware. Take control of your center for free! More ...
Dynasoft Cybercafe SurfShop Pro:
Above and beyond the standard features you expect to see in a cyber and games cafe software or freeware, Cybercafe SurfShop Pro, our competitively priced Internet cafe software, now offers:
Unlimited support free for 30 days for Pro users, something no cybercafe freeware will ever give you.

Dynamic management of software licences

One hundred skins to taylor the look and feel of your games and cybercafe program

High-strength security features to keep the user's experience safe for you and him (cleaning of all passwords,..)

Turn your cyber cafe and games center into a training centre: chat, whiteboard and sharing of server desktop

Control any type of non-PC station: game consoles (X-Box, Playstation, ...), Wi-fi connected PCs, Apple, etc.

Ensure you comply with the latest security laws thanks to SurfShop Pro: logging of URL's & full user identification.

Customiseable screensaver to personalise the computers of your Cybercafe. Use this to run your own banner ads and adverts to advertise activities in your local community or make extra money by advertising local businesses.


We have had great independent reviews of our products over the years. Here are just a few of the ones that can be found on the Internet.
"Dynasoft Cybercafe SurfShop Pro 5.05 is a utility that facilitates easy yet efficient management of a cyber cafe and provides innovative strategies to excel...The administration is simple enough with the easy to use and strong internet cafe tool...(it) gets a rating score of five points owing to its user friendly premise and its class leading features which make it a must have tool in its domain."
Freedownloadcenter.com
"The program boasts a whole assortment of features designed to make things smoothly."
Softonic.com
"Easy Setup, ease of use, and it does exactly what it says...plus it's free!"
Download.com"
"Dynasoft Cybercafe SurfShop Pro comes as a satisfying and reasonable solution for organizing an internet cafe. Cybercafe SurfShop gives an easy to follow interface, advanced security options, full control and stats. Suitable for multiplayer gaming or internet, it will work simply and rapidly. You will be able to manage your business with ease."
Softspecialist.com


Our strength as a company are our customers and the quality of the support we give them. Here are a few comments we have had from satisfied users recently about our games and cyber cafe programs.
"Thank you for your very nice assistance, you are doing a great job and the internet cafe software looks just fantastic."
Nino Imnaishvili, Stereovision cybercafe.
"The surfshop cyber cafe software has been great for managing our prepaid packs as we did it with paper/pencil prior. It also works great for having customers come in and prepay for a block of 3 hours or postpay when they leave. It manages the time as well as our incidentals (snacks, magic cards, etc.). Again, I need to reiterate that the best thing has been the customer support. We have made numerous suggestions which have been built into the program. I encourage more game centers to use the product as the company is extremely receptive to our needs and desires."
Steve Isaacs, Lyberty Corner Computing.
"Thanks. I agree with the other iGamers who use Surfshop. You guys treat your customers (and prospective customers) right."
Roger Velasco, Greendotcafé.